JV Football Season Recap
The JV football team ends a strong season at 7-1.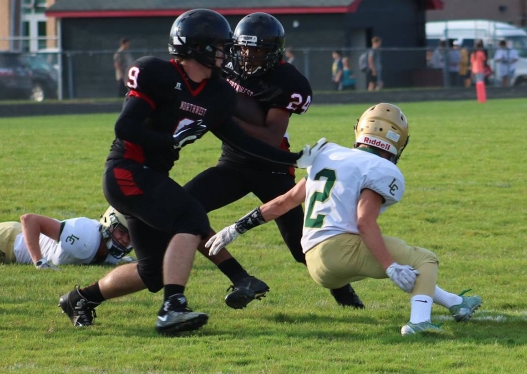 The 2018 JV football season has come to a close, with the final game on Thursday, October 11. This year's season record was 7-1, with one cancelled game, and the season ending with a bye week. I had the chance to talk to Connor Fitzpatrick for a season recap.
"Are you excited for the season to be over?"
"Yes and no, yes because it means wrestling season starts and no because I will miss playing football with my team."
"Who are the players  who went up to varsity, and did it affect your  remaining games?" 
"Basil Hampton and Ben Lefere. Yes, I do think that affected us. Taking out Ben took out our starting DE. Basil took away our running game that we were used to."
"What was your favorite play?"
"Probably when I took out Northwest's running back."
"How was it having Mr. Neville as a coach?"
"He's obviously a good coach because of the record we have. He has coached before and knows what he's doing. He has taught me how to mature off and on the field, I'm grateful to have had him as my 2018 football coach."
Leave a Comment