New Boys Varsity Basketball Coach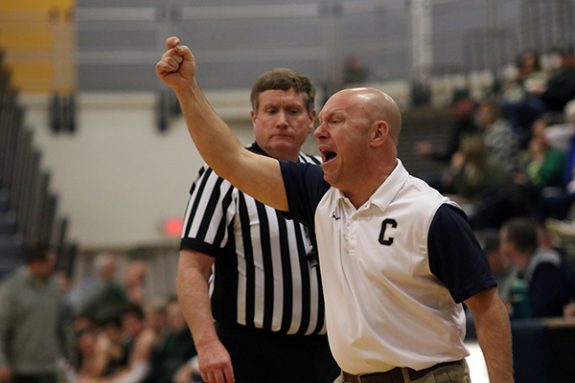 There is a new face around for the Lumen Christi boys basketball program. Josh Tropea is the new head coach for the boys basketball program. He comes from Chelsea where he was the head coach for the past couple years and before that he was at Spring Arbor, and before that Milan where he won a state championship.
     Tropea has two kids, an 8th grader and a sophomore who both enrolled at Lumen this year. He's always wanted his kids to go to a Catholic School and he saw an opportunity and took it. The past three years Lumen's basketball record was 9-45, and he is hoping to change that. Over the summer he helped as an assistant coach for the team, and it was a very successful summer for the program. The program hadn't done much in the past for summer basketball, but this summer they played a bunch of games and got better and grew as a team.
     Due to a coaching change there was an opening for the Head Coach position and since he was with the team during the summer and had success in the past he was given the job. He had some words to say about the upcoming season, "I am really excited to be a part of the Lumen basketball program. We will be a young, hard working team that plays with toughness, and plays for each other." Things are trending upward for the program, and this year could be different from the past years. The key player for the Titans this year is senior guard Joe Lathers who was a starter for last year's team, another starter last year was Aiden Pastoriza who is a junior and his frame can take up a lot of space. They will help the Titans to have a great season, and things are looking promising for this year's team. Go Titans!
Leave a Comment