Gymnastics and Tennis title winners recognized for efforts
The state champs from last spring were honored during the first football game of the new school year.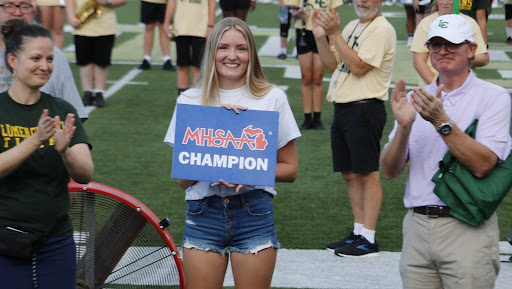 Months after the state gymnastics meet, the team, comprised of gymnasts from several area high schools, designed, and ordered State Champion rings.  They were given the State trophy that sits at Jackson Highschool.  During the first  football game of the season, the Lumen girls were also awarded a state title banner that will be hung up in the gymnasium.  Juniors Jenna Bradley and Kadence Hinkley were recognized at the first football game of the season.
Gymnastics wasn't the only sport that was recognized for a state title winner. Sophomore Olivia Eaker was on hand to receive accolades for her individual achievement. Olivia says "the best part (at states) was when I got off the court and hugged my team.  I won states,m but couldn't have done it without the tea and coaches. They all played a big part in me getting that far".
Leave a Comment