Football State Championship 2016
Hang on for a minute...we're trying to find some more stories you might like.
Lumen Christi football had a goal at the beginning of the season, that go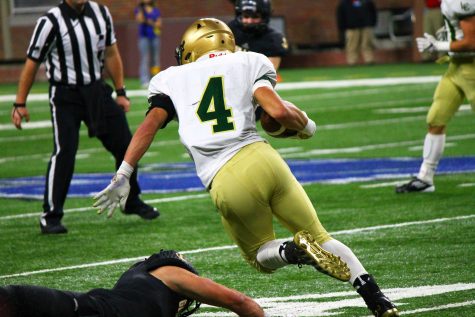 al was to make it to Ford Field for the state championship game. Lumen Christi had 44 state titles coming into this game and the boys have gained another making it 45. The last time Lumen Christi football went to Ford Field and won a state championship was in 2009.
Lumen has won eight of ten state championship games that they have appeared in. Herb Brogan coaches the team and is helped by multiple other coaches. Brogan has been the football coach for 42 years so he has seen a thing or two during his time. Overall he definitely knows what he is doing and knows how to make it great, he is a great motivator for the players and the team enjoys having him as a coach.
Lumen Christi won the state title beating Maple City Glen Lake with the score of 26-14 on Friday November 25th. Kyle Minder, Junior, had three touchdowns and Bo Bell, Senior, had one touchdown during the game. During the game Bo Bell rushed for 236 yards. During the season he rushed for a total of 2,700 yards. Kyle Minder had 66 yards during the state title game. Troy Kutcha, Junior, the quarterback had great stats throughout the season as well. Troy had 22 rushes for 74 yards and 6 touchdowns.
The Titans held the lead throughout the entire game. They started the 1st Quarter with a touchdown making it 6-0. They played their game and did what they knew best, how to win. Eventually scoring again twice, but the boys didn't have it easy, Maple City Glen Lake came back scoring a touchdown making it 26-14.  Lumen boys were not having it, they came back and stopped them there. The players on both teams fought hard and played their game, fortunately for Lumen they came out stronger and harder ending the game with a score of 26-14.
Lumen Christi came out with great sportsmanship and passion as they stepped on to Ford Field. Students gathered to support their players in the big game cheering them on and supporting. The football team walked into the season with a goal of Ford Field, they worked hard and gave it everything they had, they left in all on the field as they won the state title, accomplishing their goal.